Bangiya Sabarna Katha / Kalishetra Kalikatah
You can easily collect all our books following any of these easy steps:
1) Collect the books anytime at a discounted rate from Sabarna Sangrahashala. Call 9820289400.
2) Collect it from our special distribution centres at Birati and Halisahar. For details SMS 9830289400.
3) Buy the book in Kolkata at your very doorstep availing our Free Home Delivery Service. Call Ashoke Manna @ 9433186064.
4) For all West Bengal, You can opt for VPP. Call Ashoke Manna @ 9433186064.
5) Buy the books at all major Book Fairs across West Bengal including Kolkata Book Fair from the stall of Manna Publication.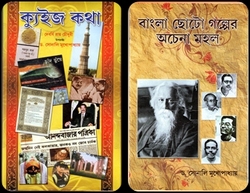 For more details contact our Infoline anytime @ 9830289400. REVISED & ENLARGED EDITION OF Bangiya Sabarna Katha/ Kalishetra Kalikatah NOW PUBLISHED

This Book is authored by Bhabani Roy Choudhury and published by Manna Publication in collaboration with Sabarna Roy Choudhury Paribar Parishad-Sabarna Sangrahashala.Its ISBN No is 81-87648-36-8. Cover Price RS 200.
Our Newly Published Books:
বাংলা ছোটগল্পের অচেনা মহল - ডঃ সোনালি মুখোপাধ্যায় (মুখার্জী)
Bangla Chotogalper Achena Mahal By Dr. Sonali Mukhopadhyay (Mukherjee) Price Rs 50.OO

ক্যুইজ কথা - দেবর্ষি রায় চৌধুরী
Quiz Katha By Devarshi Roy Choudhury Price Rs 50.00